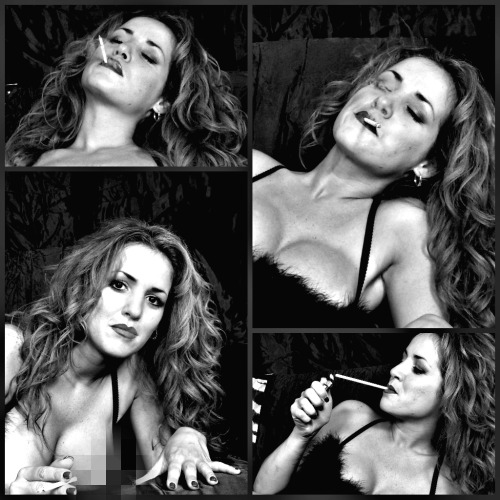 SMOKING FETISH PHONE SEX LOVER
I know your type… the smoking fetish phone sex type!   You're the guy who sits across the bar watching me light up my cigarette.   You stare and watch me pull my cigarette up to my sensual full lips and take a nice long drag while holding it between my pretty fingers with painted nails.   I see you squirm on your bar stool.    And I know just why you're squirming like that too!    Your cock got hard instantly and you need too get comfortable again.  That's the best thing about erotic smoking fetish phone sex fantasy calls… it's so easy to tease you to the edge and back multiple times before your balls explode!
If you would like to have a smoking fetish phone sex call with me just pick up the phone.  We can talk about any fantasy you have.  I'd love to be sucking your cock with a cigarette in one hand while I massage your balls with the other.  My lips wrapped around the head of your cock… every once in a while taking a long drag and blowing that smoke right up in your face.
The thought of me sitting back in my comfortable lounge chair enjoying a smoke and a glass of wine while you crawl over to me and start licking my feet… working your way up my ankles, calves and thighs… till you get to my hot, wet waiting pussy.  Only to have your face covered in smoke is so taboo.   It just makes me wet thinking about it!
So, if you have a smoking fetish fantasy, call me… I'll be waiting with cigarette in hand 🙂
Karyn @ 1-866-371-5413
MY AVAILABILILTY
Refresh Page for Accuracy
Like what you see? Click to vote for me at PHONE SEX CENTRAL!